I wanted to post up a final blog before CNY ends, but god knows what the fuck happened, the whole post went disappeared and caused my blogger account to screwed up too. Not realizing that the problem could be solved with just a *click* away.

Prolly, I cursed too much.Every single thing that I do reflects my karma.From the minute I woke up and look at the clock, "Fuck", "is my first word.

Mom said that during CNY period, I should not be doing anything bad.In fact, I know that I will be send to hell,either 5th or 6th floor.The 7th floor is for extremist such as rapist, robber and killer.

I should be doing THIS often!!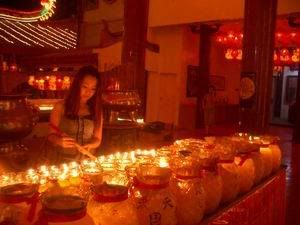 (To lessen my karma,hopefully)
CNY is celebrated for 15 days only, I am only rich for 15days out of 365 days a year. And as I grew older, my angpau money is getting less, depreciate as years goes by.

Since this is my very last month in Penang, me and a few of my friends are taking this golden opportunity to explore every place's and event's in conjunction with Visit Malaysia 2007.

Kek Lok Si temple is one of the Penang main tourist attraction.This is where the almighty Kuan Yin Ma stayed there. Myths and legends presumed that the glorious Kuan Yin Ma is actually the back bone of the Penang because they claimed that she is able to see the whole Penang from every angle that she stood and to protect it.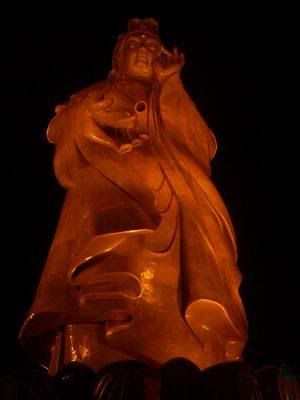 (This new Kuan Yin Ma is made with filthy bronze)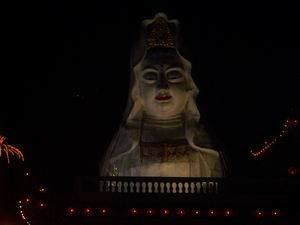 (The old Kuan Yin Ma,I see that there's tears drowning from her eyes)
Kek Lok Si deserved its title as one of the most beautiful place especially during CNY. There it goes all the taxes that our parents paid for.Go during the night, because no one goes there during daytime to see lantern.Unless u have not seen hundred of gigantic tortoise fighting their way for food

.
(The most talk about Pagoda)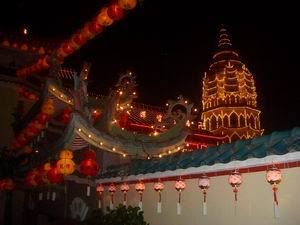 (Its beautiful, no matter which angle)
(The alter and worshiping area)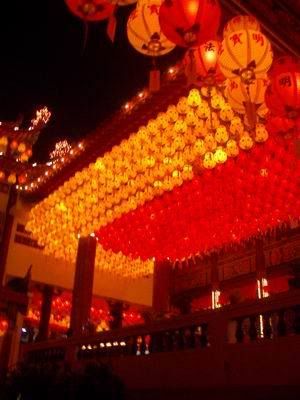 (Latern Lantern Lanterns!)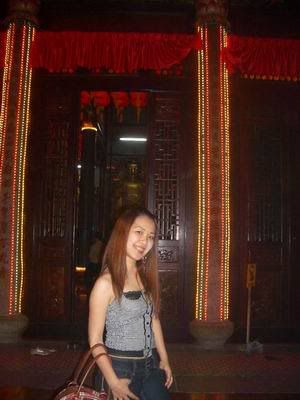 (Wanted to go in with camera, but I don't think it is appropriate)
(Oh yeah,both of them enjoyed the Boar so much through their face expressions)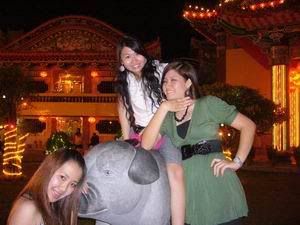 (
I don't usually get to be seated at the VIP place.It's either at the Boar didn't dig for ventilation nose or at the place where he clear his shit toxic)

You see, i don't see the purpose for putting this 'Oh so wrong' notice up at the door. Shouldn't it be CNY special?Prolly for CNY, they only open in the morning.Want to see lanterns?Go during daytime then!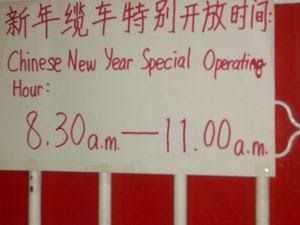 (Now I see, why is it so "special")





Since the boar has a chance to be the host for the year 2007 again after all the waiting with no exercise and continously growing fatter

.



Please bless me with good 'che' throughout this year

.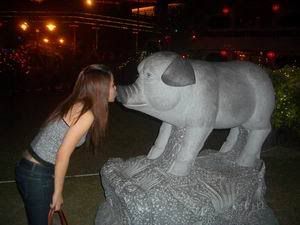 (*oink* *oink*)