Too many things to do, too little time.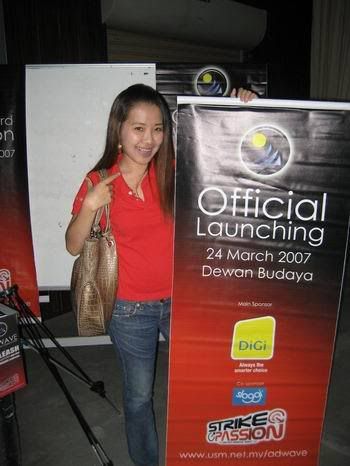 What i wanted to do before I leave;
1) Take pictures with lecturers from Mass Communication School and my all time favourite sir, Francisco Gomez.
2) Round island for the second and last time.
3) Visit Bukit Bendera.
4) Try the Penang best Assam Laksa.
5) Take picture of my 3 years old tears and laughter university.
6) Clean up and pack my room.
7) Visit Prangin, Queensbay and Gurney again
8) Use the complimentary facial passes at Clinique.
9) And 2 foot massage at Danai Spa.
10) Chill with my girlfriends at Segafredo, Gurney
11) Catch a last midnight movie with my friends
12) Round Penang Island.

This is what I want to do in 2 days time.Too many things to accomplish but too little time left for me.

How time fly in just blinks of eyes and today is the last time I attended a campaign presentation in my university and the very last time, the 29 of us wore red shirt.

RED DEVIL!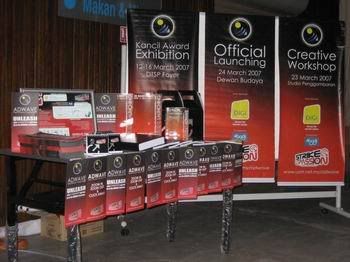 (Red!Red!Red)
Okay.. I promise that I am not going to make this is if like a very emo post although in reality, I am. I am rather piss now.

This presentation is presented by 4 campaigns which are ADWAVE, Energy Efficiency(EE), Nemgrad, and Recycling.

(ADWAVE a.k.a AWard Wining Advertisement Exhibition)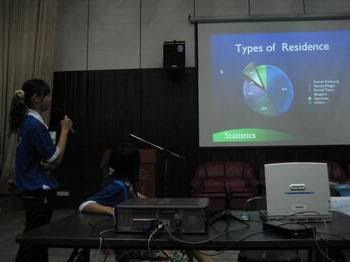 (Energy Efficiency, a.k.a EE)
(NemGrad a.k.a NewMillennium Graduates)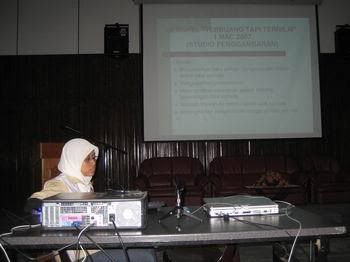 (Recycling)

By the end of the presentation, we were told that it is the spirit that bring all the group members together. But I think, it is the Passion.Passion leads me to the way.

One thing for sure during the presentation was, ADWAVE team stand ahead of others campaigns in term of making noise and confident applause. And, this dude in my team had pull off the beginning of ADWAVE presentation respectably well. Before Wai Ling and Yi Von began their presentation, this voluntarily ADWAVIAN went in front and frowned "ADWAVIANs, Strike Passion, Passion Strike". He really deserved a round of applause for the effort..Silly but simply hilarious.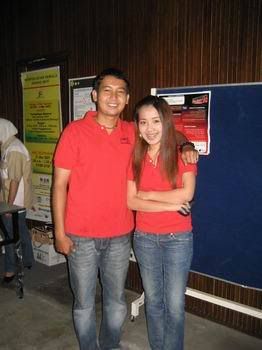 (Yom+ Me)
(After presentation, FREE FOOD!)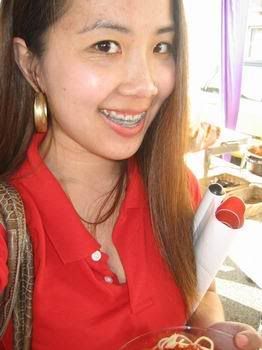 (Cam whoring is part of my past time)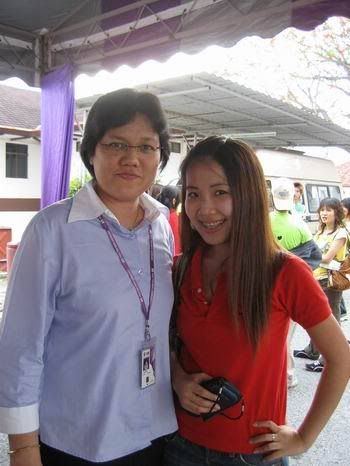 (Dr.J + Me)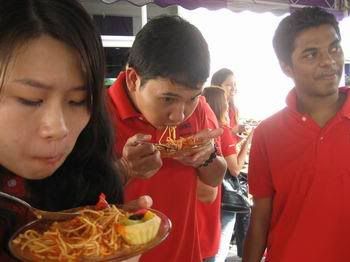 (When there is "free" food, you will see their face)

Fucking pissed.

I don't have anything with other campaign member but there is this particular hypocrite bitch from NemGrad which annoyed me. She commented about ADWAVE in her blog that our Utusan forum was bad, how Tuan Haji forced her to attend and also demanded her team members to support the event, how TheStar journalist was commented and bla bla bla.

Firstly, you fucking have no right to make this kind of remark although its your blog because you know what?When you pointed your finger at us, the rest of your 3 fingers is pointing back at you. If you look at the situation, Tuan Haji verbally forced you to attend but I am sure you are a smart bitch. No one in this world can forced you and he is not pointing his gun at you right?!!If you are not interested in forum, then just give a fuck excuse or rather ignored it.Don't bullshit in your blog and talk sense out of it.Don't talk as if like you are someone who knows about everything in the industry ok..when you are just as tiny as a Lao Shu!

Secondly, if you don't know how to count, just go and die.There is MORE THAN two of us attended your Launching and what about it clashes with our own activity on that day?Oh please...the 29 of is deadly wanted to attend your Launching because it so "oh so successful and happening".

Thirdly, you blame it on the publicity director.FUCKING HYPOCRITE.All of us, even the blind or deaf know what you are up to. Whatever compliments come out from your mouth are all sarcastic remarks which I swear no one bother about your compliments although sometimes you innocently meant it.In front of the publicity director, you complimented him, but at the back....Fuiyoh KUTUK KAU KAU SIAL!

Do you think you are doing a good job or you think you are an angel to everyone?Think about it...Get a life and stop commenting about what others did but rather you fucking look at yourself what have you done!Nothing!


So mind your own business!
*I personally don't have anything against NemGrad but only the particular hypocrite bitch.